Ya-Ya-Yah

Ya-Ya-Yah (2007)

Members

4 (core), 7(original)

Years Active

2002 - 2007

Associated acts
Ya-Ya-yah
 was a four member
Johnny's Jr unit.
On May 15, 2002, the group released double A-side single "Yūki 100%/Sekai ga Hitotsu ni Narumade." The single debuted at #9 on the Oricon charts. On September 24, 2007, members Kota Yabu and Hikaru Yaotome debuted under Hey! Say! JUMP. As of November 30, 2007 after the resignation of Taiyo Ayukawa from Johnny & Associates, Ya-Ya-yah has been removed from Johnny & Associates's official line-up. In 2010, the remaining previous Ya-Ya-yah member Shoon Yamashita, resigned from the company.
Former Members
Edit
Main
Taiyo Ayukawa (Left in 2007, resigned) born January 18, 1991
Left
Naoya Akama (Left in 2004), born April 5, 1991
Masaki Hoshino (Left in 2004), born October 10, 1987
Yuuki Yoshida (Left in 2002), born November 16, 1987
Yasuhiro Ando (Left in 2002), born January 21, 1987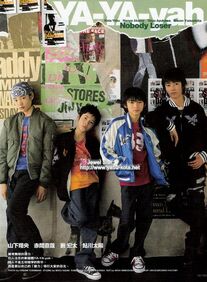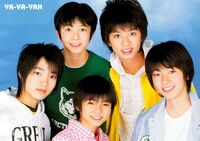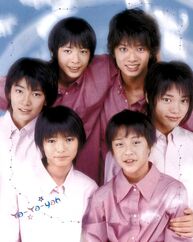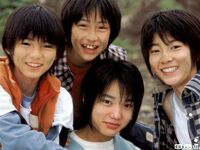 2002
LOVE together 2002 
合言葉はYa-Ya-yah! (Aikotoba Wa Ya-Ya-Yah!)
Maybe your love (Collaboration with KAT-TUN)
2003
Singin' for you
Just wanna lovin' you
Stompin'
Up Down Ya-Ya-yah
HA・RU・NA・TSU・A・KI・FU・YU
   2005
START!
Never Stop the Music
2 of Us
風に乗って (Kaze Ni Notte)
ひまわりのメロディ(Himawari No Melody)
   2006
Ikujinashi
Jewel Star
サマー×サマー×サマー!
To the Freedom
愛しのプレイガール (Itoshi No Playgirl)
手をつないでゆこう(Tewo Tsunaide Yokou)
   2007
Appearances
Edit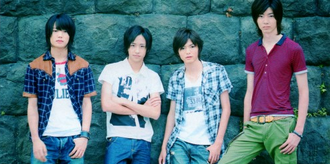 Variety Shows
Commercials
Theatre/Musicals
Concert
お客様は神サマーConcert 55万人愛のリクエストに応えて!!(2002年)
A Happy "NEWS" year 2004新春
SUMMARY(2004)
*SUMMARY Ya-Ya-yah show time(2005)
ジャニーズJr.の大冒険!(2006)
you達の音楽大運動会(2006)
2007 謹賀新年 あけましておめでとう ジャニーズJr.大集合(2007)
ジャニーズJr.の大冒険!@メリディアン'07(2007)
JOHNNYS'Jr. Hey Say 07 in YOKOHAMA ARENA(2007)
Event
KICK! ODAIBA 2002(2002)
忍たま乱太郎 10周年記念イベント(2002)
忍たま乱太郎 公開イベント(2002)
パタヤミュージックフェスティバル(2003)
Books/Comics
Originally this group was formed with 7 members.
The name's group taken from initials of members' name, those were Yabu, Akama, Yamashita, Ayukawa, Yoshida, Ando and Hoshino.
But then Ando Yasuhiro and Yoshida Yuuki left the group. They replaced by Yaotome Hikaru.
Before Yuuki 100%, this group released a single under name YA-YA with four members (Yabu, Akama, Yamashita and Ayukawa)
Yaotome Hikaru wrote lyrics for Ima Susumou and the members of Ya-Ya-yah wrote lyrics for Te wo Tsunaide Yukou.
Other Johnny's Jr. Groups
Edit
Ad blocker interference detected!
Wikia is a free-to-use site that makes money from advertising. We have a modified experience for viewers using ad blockers

Wikia is not accessible if you've made further modifications. Remove the custom ad blocker rule(s) and the page will load as expected.