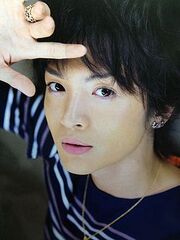 Tamamori Yuta (玉森裕太; Tamamori Yuta) is a current member of the Johnny & Associates group Kis-My-Ft2. He is the 'T' in Kis-My-Ft2.
Name: Tamamori Yuta (玉森裕太)
Nicknames: Tama-chan, Tama
Birthdate: March 17, 1990 (age 27)
Birthplace: Tokyo, Japan
Blood Type: B
Height: 177cm
Weight: 58kg
Hobbies: Sleeping
Strong Point: Can become friends with anyone
Weak Point: Gets tired of things fast
Admired Sempai: Yamashita Tomohisa
Special Ability: Can notice things fast, learned surfing in third grade
Favorite Sport: Soccer
Favorite Food: Tofu
Favorite item of Clothing: Shirts
Treasures the most: Graduation booklet
Favorite Song: "Yubiwa" by Yamashita Tomohisa
Entered Johnny's: December 1, 2002
Image Color: Yellow
Yuta has a hard time getting along with the girls in his class.
He is considered to have an unique dance style.
Tamamori is considered as the little "sister" of the group.
Hikaru Yaotome of Ya-Ya-Yah stated in an interview that he wanted someone to convince Yuta to wear a dress.
He has a caring, gentle nature.
He doesn't talk about anything else besides work.
Yuta cried once during a practice because of what was said to him by another member.
He wants to dance calmly like fellow member Hiromitsu Kitayama and with a stylish expression.
He is Takashi Nikaido's shopping partner.
Tamamori meets up with Kento Senga and Takashi Nikaido the most.
He loves saying cute stuff. For example, he uses the Japanese honorific "-san" to all things, even foods.
His mother was the one who applied him to the agency, and had to literally drag him to his audition.
He once liked baseball and joined his school's baseball team but quit because the shirts always have a tight fitting around the neck and because he just hated it.
Yuta always does stuff at his own pace.
FILMOGRAPHYEdit
Dramas:
[2009] Gokusen 3 Special
[2011] Shiwase ni Narou Yo 
[2011] Ikemen Desu Ne?
[2012] Saikou no Jinsei no Owarkita~ Ending Planner~
[2012] ATARU
[2013] ATARU SP
[2013] Nobunaga no Chef
[2013] Pin to Kona
Films:
[2009] Gokusen the Movie
[2012] Shiritsu Bakaleya Koukou THE MOVIE
[2012] Yoshio
[2011.9.??] "Ikemen Desu Ne?" Official Photo Book (Feature)
MAGAZINE APPEARANCESEdit
[2011.6.??] Poplo August 2011 Issue (Cover & Feature)
[2011.7.??] Duet August 2011 Issue (Cover & Feature)
[2011.7.??] Wink Up August 2011 Issue (Cover & Feature)
[2011.7.??] POTATO August 2011 Issue (Cover & Feature)
SLIDESHOW GALLERYEdit
Ad blocker interference detected!
Wikia is a free-to-use site that makes money from advertising. We have a modified experience for viewers using ad blockers

Wikia is not accessible if you've made further modifications. Remove the custom ad blocker rule(s) and the page will load as expected.