Ad blocker interference detected!
Wikia is a free-to-use site that makes money from advertising. We have a modified experience for viewers using ad blockers

Wikia is not accessible if you've made further modifications. Remove the custom ad blocker rule(s) and the page will load as expected.
Takaki Yuya
(高木雄也)

Takaki Yuya, September 2014

Born

March 26, 1990 (1990-03-26) (26)

Origin

Osaka, Japan

Genres

Japanese Pop

Occupations

Singer, Talent, Pop Idol, Actor

Years active

June 12, 2004-present

Labels

Associated acts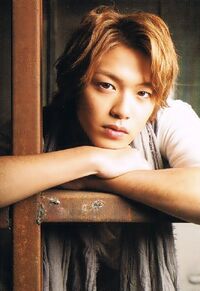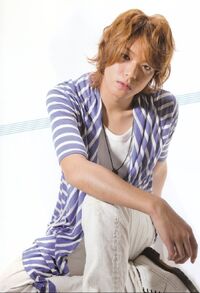 Takaki Yuya (高木雄也) is a member of the Johnny's Entertainment group Hey! Say! JUMP.
Name: Takaki Yuya (高木雄也)
Birthdate: March 26, 1990 (26)
Birthplace: Osaka, Japan
Blood Type: O
Height: 176 cm (5'10 ft)
Weight: 62 kg
Johnny's Status:

2004-06-12: Trainee
2007-09-21: Member

Admired Senior: Domoto Koichi, Akanishi Jin
Favourite Food: Pizza, Gratin Pineapple
Disliked Food: Paseri
Favourite Color: Orange
Weak Point: Scared of bugs and pigeons
Johnny & Associates Group's:
Information
Edit
After entering Johnny's, Takaki entered the junior fandom by being grouped with J.J. Express and later Hey! Say! 7, which disbanded in september 2007 when he was integrated into the 10-member boyband Hey! Say! JUMP.
Takaki starred as Eikichi in Shabake in later 2007, and got his first lead role in the Gokusen 3 dorama.
On December 2007, Takaki Yuya was in relationship with former 9nine member Kato Rubi after pictures surfaced of him with her. Then Kato Rubi was removed from 9nine.
Discography
Edit
Songs Written
Edit
He joined Johnny & Associates after he attended Kinki Kids' G Concert.
He has an older sister and a younger brother.
Takaki Yuya was in relationship with former 9nine member Kato Rubi after pictures surfaced of him with her. Then Kato Rubi was removed from 9nine.
He is the first Hey! Say! JUMP member to have his earpierced
Hey! Say! JUMP
Members
Yabu Kota, Takaki Yuya, Inoo Kei, Yaotome Hikaru, Arioka Daiki, Okamoto Keito, Yamada Ryosuke, Nakajima Yuto, Chinen Yuuri
Morimoto Ryutaro
Albums
JUMP NO.1, JUMP WORLD
Singles
Ultra Music Power, Dreams Come True, Your Seed / Bouken Rider, Mayonaka no Shadow Boy, Hitomi no Screen, "Arigato" ~Sekai no Doko ni Itemo~, OVER, Magic Power, Super Delicate, Come On A My House
DVDs
Hey! Say! JUMP Debut & First Concert Ikinari! in Tokyo Dome, Hey! Say! Jump-ing Tour '08-'09, Hey! Say! 2010 TEN JUMP, SUMMARY 2010 , SUMMARY 2011 in DOME, JUMP WORLD 2012
Related Topics
NYC, Hey! Say! 7, Hey! Say! 7, Hey! Say! BEST