Snow Man

Snow Man (December 2016)

Members

6

Years active

June 2012 - Present

Associated Acts
Snow Man
 is a six member Johnny's Jr unit that specializes in dancing and acrobatics.
Current Members
Edit
Fukazawa Tatsuya (Purple)
Sakuma Daisuke (Pink)
Watanabe Shota (Blue)
Miyadate Ryota (Red)
Iwamoto Hikaru (Yellow)
Abe Ryohei (Green)
Former Members
Edit
Onodera Ikki 
Sanada Yuma 
Nozawa Yuki 
Background
Edit
Mis Snow Man was created with the boys from Johnny's Jr. group Jr.BOYS for Takizawa Kakumei in January 2009. Mis Snow Man was originally a 9 member group, but in June 2009 Onodera Ikki was moved into another Johnny's Jr. group, M.A.D.. Later, in 2012, Sanada Yuma and Nozawa Yuki were removed from the group and formed a duo Jr's group called noon boys. Later, Mis Snow Man changed their name to Snow Man.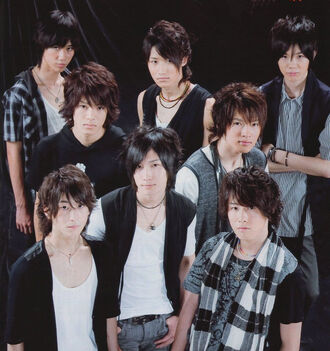 Stage Play
Edit
Takizawa's New Year's Revolution (January 1, 2009 - May 27)
DREAM BOYS (September 4, 2009 - November 29)
Takizawa's New Year's Revolution (January 1, 2010 - February 5)
Takizawa's New Year's Revolution
Takizawa Kabuki (April 4, 2010 - May 8)
フォーラム新記録!!ジャニーズJr.1日4公演やるぞ!コンサート (June 7, 2009)
夏休み ジャニーズJr. 全員集合 (August 18, 2009)
みんなクリエに来てクリエ! part1 (May 11, 2010 - May 19)
みんなクリエに来てクリエ! part2 (May 21, 2010 - December 26)
Athletes selected Johnny Fan Appreciation DAY 2009 (December 13, 2009)
PV Appearance
Edit
Tackey & Tsubasa's Journey Journey ~Bokura no Mirai~
Movie Appearance
Edit
[2011] Hot Snow
[2012] Shiritsu Bakaleya Koukou THE MOVIE
Ad blocker interference detected!
Wikia is a free-to-use site that makes money from advertising. We have a modified experience for viewers using ad blockers

Wikia is not accessible if you've made further modifications. Remove the custom ad blocker rule(s) and the page will load as expected.