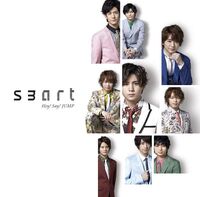 SMART (Stylized as S3ART) is the upcoming third studio album from Hey! Say! JUMP. It is set to release on June 18, 2014.
Album information
Edit
After almost 2 years since Hey! Say! JUMP's second album JUMP WORLD was released, it was announced that the group would be releasing their third album on June 18, 2014. The album would contain their singles from Come on A My House to AinoArika. The album would be released on three different version, a Regular Edition, Limited Edition 1 and 2.
Tracklist
Edit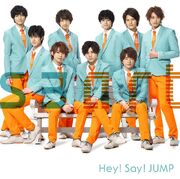 Regular Edition Tracklist
Edit
overture (tentative)
FOREVER
Ready Go
Come On A My House
Setsunasa, Hikikae ni (切なさ、ひきかえに )
Candle
Pastel (パステル)
Yuto Tataite Mita. (ゆーと叩いてみた。 )
Compass Rose (コンパスローズ )
Ride With Me
Come Back...?
RELOAD
Hajimari no Melody (はじまりのメロディ )
AinoArika
Regular Edition First Press
Edit
CD:
My World / Hey! Say! JUMP
Tomodachi Dayo (ともだちだよ) / Hey! Say! JUMP
Yes! / Kaitou y-ELLOW-voice (Yamada Ryosuke, Takaki Yuya, Yaotome Hikaru)
Super Super Night / Night Style People (Chinen Yuri, Nakajima Yuto, Yabu Kota)
Oh! Idol! (Oh!アイドル!) / Aioitai (Okamoto Keito, Arioka Daiki, Inoo Kei)
Limited Edition 1 DVD Tracklist
Edit
Album "smart" song explanation interview & recording footage
Limited Edition 2 DVD Tracklist
Edit
FOREVER Music Video
Setsunasa, Hikikae ni Music Video
Oricon Chart Positions
Edit
Mon
Tue
Wed
Thu
Fri
Sat
Sun
Week Rank
Sales
-
#1
71,929
#1
24,018
#1
11,146
#1
6,208
#1
5,325
#3
4,447
#1
126,734
#3
2,047
x
x
x
x
x
x
#11
9,305
x
x
x
x
x
x
x
#27
3,547
x
x
x
x
x
x
x
#47
1,647
Total Reported Sales: 141,233*
Ad blocker interference detected!
Wikia is a free-to-use site that makes money from advertising. We have a modified experience for viewers using ad blockers

Wikia is not accessible if you've made further modifications. Remove the custom ad blocker rule(s) and the page will load as expected.