Sexy Bishounen
(formerly Tokyo B Shounen)

'

Also known as

Sexy美少年

Members

6

Years active

November 23rd 2016 - Active

Associated acts
Sexy Bishounen (Sexy美少年), formerly Tokyo B Shounen (東京B少年), is the newest Johnny's Jr. unit which started in December 2016. All unit members are born from the year 2000 onwards.
Fujii Naoki
Iwasaki Taisho
Nasu Yuto
Sato Ryuga
Ukisho Hidaka
Kanasasi Issei
Background
Edit
Fujii Naoki, Sato Ryuga and Nasu Yuto first performed together on The Shounen Club on October 12 2016th as main dancers of a Junior Dance Medley with Tensai Genius members.
As Classmate J disbanded Fujii Naoki and Iwasaki Taisho was moved into Tokyo B Boys. HiHi Jet was also having a reformation and moved Ukisho Hidaka into this unit as well.
Formed in November 2016. Unit announced on November 23 in Johnny's Jr. Information Bureau movie. The group name at the time of formation was Tokyo Boys.
The group made their first official appearance on Shounen Club on December 21st - Christmas Episode.
From 16th January 2017, Inoue Mizuki made a formal announcement that during JOHNNY'S ALL STARS ISLAND, the members of HiHi Jet and 東京B少年 would come together to become Universal Boys. Although there is uncertainty to the joint unit, both units currently perform together on Shounen Club (Most notably トーク,BE COOL)
On the 29th of April, Kanasasi Issei was added to the lineup increasing the number of members from 5 to 6.
JOHNNY'S ALL STARS ISLAND (2016 December - January 2017, Imperial Theatre)
Johnny's Jr. Festival (March 24 - 26, 2017 Yokohama Arena / 8 April - 9 April, Saitama Super Arena) 
Johnny's Ginza 2017 (29 April - 5 May 2017) - joint show with HiHi Jet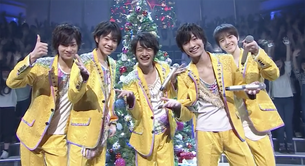 Music program
Edit
Shounen Club (December 2016 - present, NHK BS premium )
Fujii Naoki and Iwasaki Taisho were both members of Classmate J and Ukisho Hidaka was a member of HiHi Jets.
Nasu Yuto and Sato Ryuga are both fresh juniors.
Kanasasi is the only member from Kansai Jr.