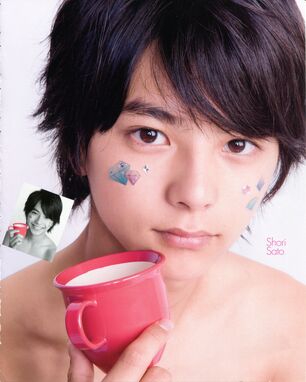 Sato Shori is a member of Johnny's Entertainment in the group Sexy Zone.
Name: Sato Shori (佐藤 勝利)
Nickname: Shoripon
Star Sign: Scorpio
Birthplace: Tokyo, Japan
Date of birth: October 30, 1996
Age: 19 years old
Blood type: A
Height: 164 cm-167cm (5.8 inches-5.11 inches)
Weight: 50 kg-60kg (110 lbs-132 lbs)
Hand Length:18 cm (7 inches)
Feet Length:26 cm (10 inches)
Family Member:One Elder Sister, Two Elder Brother
Hobby: singing
Admired Sempai: Koyama Keiichiro, Nakayama Yuma
Favorite food: Sushi and Barbecue
Favorite Color: Green, Red, Black, Blue, White
Favorite Subject:Science
Talent agency: Johnny and Entertainment
Band: Sexy Zone
Sexy ZoneEdit
Songs
Sexy Zone
Real Sexy
Sexy Summer
See you again
Lady Diamond
A My Girlfriend
Young and Beautiful
Kazewokitte
Bayside Elegy
Small Class
Under the Same Sky
Fake
Silvermoon
Kimi... Naseni
Suki
Actor
Singer
Band member of sexy zone
Dancer
PersonalityEdit
Ad blocker interference detected!
Wikia is a free-to-use site that makes money from advertising. We have a modified experience for viewers using ad blockers

Wikia is not accessible if you've made further modifications. Remove the custom ad blocker rule(s) and the page will load as expected.