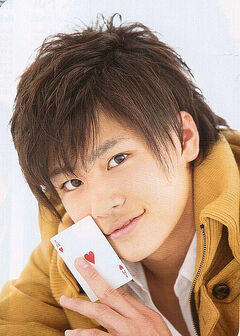 Morimoto Shintaro (森本慎太郎) is a Japanese singer, actor and member of the Johnny's Entertainment group SixTONES.
Name: Morimoto Shintaro (森本慎太郎)
Nicknames: Shin chan,Taro
Birthdate: July 15, 1997 (20)
Birthplace: Kanagawa, Japan
Blood Type: A
Height: 174 cm
Weight: 65 kg
Family: Older brother Hey! Say! JUMP member Morimoto Ryutaro, father, mother and younger sister.
Admired Sempai Takizawa Hideaki
Hobby: Soccer,reading manga,games
Skills: Soccer,Karate,baseball
Favorite Sport: Soccer
Favorite Color: Black,Red
Favorite Food: Salmon sushi.
Dislike: Vegetables
Favorite Drink: Cola
Favorite type of girl: Cute,friendly
Favorite Song: "Everything" by Arashi,"Kimagure JET" by Takizawa Hideaki and "Kisek" by Takizawa Hideaki
Favorite Movie: "Jaws"
Good friend with : Otsuka Yuya,Tanaka Juri,Kikuchi Fuma
Ad blocker interference detected!
Wikia is a free-to-use site that makes money from advertising. We have a modified experience for viewers using ad blockers

Wikia is not accessible if you've made further modifications. Remove the custom ad blocker rule(s) and the page will load as expected.