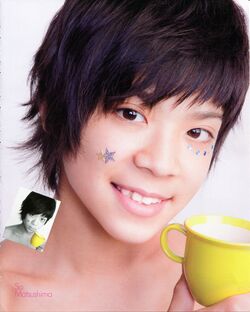 Matsushima So(松島 聰) is a member of the Johnny's Entertainment in the group Sexy Zone.
Name: Matsushima So(松島 聰).
Nicknames: Mattsu.
Birthdate: November 27, 1997 (19)
Birthplace: Shizuoka, Japan.
Bloodtype: A
Height: 153 cm
Weight: 40kg.
Foot Length: 25.5 cm
Admired Senpai: Chinen Yuuri.
Skills: Karate.
Hobby: Ski.
Favorite Colors: Black ,Tawny,
Johnny's & Associates Group's:
Singles Participate InEdit
Sexy Zone
Edit
Ad blocker interference detected!
Wikia is a free-to-use site that makes money from advertising. We have a modified experience for viewers using ad blockers

Wikia is not accessible if you've made further modifications. Remove the custom ad blocker rule(s) and the page will load as expected.