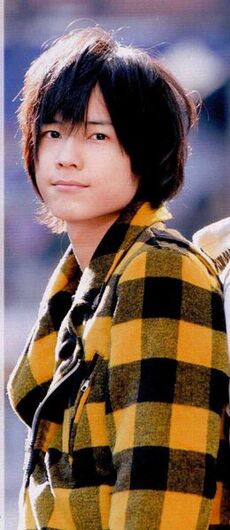 Matsumura Hokuto
(松村北斗) is a member of
Johnny's Jr
group
SixTONES
.
Name: Matsumura Hokuto (松村北斗)
Nickname: Hokku
Birthday: June 18, 1995 (22)
Birthplace: Shizuoka, Japan
Blood Type: B
Height: 176cm
Weight: 58 Kg
Shoe size: 27.5 cm
Admired Sempai: Yamashita Tomohisa
Information
Edit
He applied to Johnny's Entertainment because he admired NEWS and wanted to be like them. He is the newest members of B.I.Shadow and also the youngest member. He is amazingly skilled in Karate and has taken part in it since his first year of Elementary school, he is a black belt.
After Sexy Zone debuted the end of 2011, B.I.Shadow disbanded.
In 2012, Matsumura acted in Shiritsu Bakaleya Koukou with Jesse, Kochi Yugo, Kyomoto Taiga, Matsumura Hokuto, Morimoto Shintaro, Tanaka Juri. Although an unofficial unit, the six found large popularity as Bakaleya6 (the name originating from the drama). It was not until Johnny's Ginza 2015 that Bakaleya6 was introduced as an official unit under the name SixTONES.
Singles Participated In
Edit
Nakayama Yuma w/B.I.Shadow
Edit
Live House Johnny's Ginza 2013
Live House Johnny's Ginza 2014
Gamushara J's Party!! Vol. 1
Gamushara J's Party!! Vol. 2
Gamushara J's Party!! Vol. 4
Gamushara J's Party!! Vol. 5
Gamushara Sexy Natsu Matsuri
Gamushara J's Party!! Vol. 6
Gamushara J's Party!! Vol. 7
Johnny's Ginza 2015
[2013] TAKE FIVE
[2014] Kamen Teacher SP
[2014] SHARK
[2012] Gekijoban Shiritsu Bakaleya Koukou
Variety Show
Edit
The Shonen Club
Gamushara!
He is currently the youngest member in B.I.Shadow and Nakayama Yuma w/B.I.Shadow.
His strong point is that he's not shy.
His weak point is that his voice is low.
His hobby is reading manga.
His skill and favorite sport is karate.
His favorite food is pasta, rice, ice cream.
His least favorite food is cucumber, tomatoes.
His favorite colors are black and white and blue
His favorite subjects are English and Japanese.
His Least favorite subject is math.
The type of girl he likes is a person with distinctive eyes.
His favorite song "Cherish" by NEWS," After the Rain" by Yamashita Tomohisa.
His favorite manga is "Crayon Shin-chan".
Ad blocker interference detected!
Wikia is a free-to-use site that makes money from advertising. We have a modified experience for viewers using ad blockers

Wikia is not accessible if you've made further modifications. Remove the custom ad blocker rule(s) and the page will load as expected.