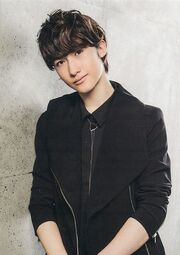 Marius Yo is a member of Johnny's Entertainment in the group Sexy Zone.
Name: Marius Yo (マリウス葉)
Nick Name: Mari (マリ), Mayo (マヨ) Mari-Chan (マリちゃん), Marius (マリウス). 
Birthday: March 30, 2000 (17)
Birthplace: Heidelberg, Germany.
Blood Type: O.
Height: 179.2 cm.
Hobby: Guitar, studying English, playing piano 
Favorite Color: Pink, rainbow
Specialty: To speak fluent English, German and Japanese
He is a quarter Japanese, quarter Chinese and half German
Singles Participate InEdit
Sexy ZoneEdit
[2011.11.16] Sexy Zone (Debut Single)
[2012.04.11] Lady Diamond (Lady ダイヤモンド)
[2012.10.03] Sexy Summer ni Yuki ga Furu (Sexy Summer に雪が降る)
[2013.05.01] Real Sexy / BAD BOYS
[2013.10.09] Byebye Dubai -See You Again- / A MY GIRL FRIEND (バィバィDuバィ〜See you again〜 / A MY GIRL FRIEND)
[2014.05.14] King & Queen & Joker
Movies/Dramas Participated Edit
[2012] Kodomo Keisatsu
[2012] Kodomo Keisatsu Special
[2014] Akumu-chan Special
[2014] Akumu-chan the Movie
Ad blocker interference detected!
Wikia is a free-to-use site that makes money from advertising. We have a modified experience for viewers using ad blockers

Wikia is not accessible if you've made further modifications. Remove the custom ad blocker rule(s) and the page will load as expected.