Love-tune

Love-tune 2016

Members

7

Years active

March 5th 2016 - Present
Love-tune
is a seven member Johnny's Jr unit which preforms as a band alongside singing and dancing. 
Yasui Kentaro (Vo.)
Morohoshi Shoki (Sax.)
Hagiya Keigo (Drs.)
Nagatsuma Leo (Key.)
Abe Aran (Gt.&Vo.)
Sanada Yuma (Gt.)
Morita Myuto (Ba.)
Background
Edit
The unit name originates from melody (Love) and harmony (tune) with - connecting the two to be read as one word. The name was given to the group by Johnny Kitagawa during lessons.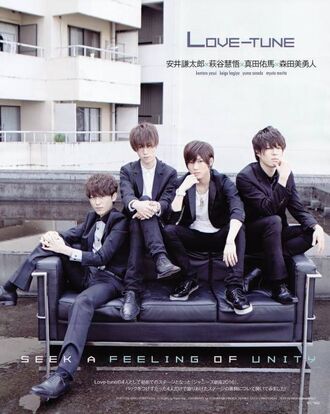 Love-tune originally started as a four member unit with Yasui Kentaro (Vocals), Hagiya Keigo (Drums), Sanada Yuma (Guitar), Morita Myuto (Base) as there are no other junior units currently taking this format of group.
During June 29th during the announcement of DREAM BOYS, Nagatsuma Leo, Abe Aran and Morohoshi Shoki were added to the unit. Hagiya mentions that "rather than having the band as the focus of the group, it will be just one of their many weapons".
Johnny's Ginza 2016 [performer C] (May 6, 2016, 21 days - 22 days, 31 days, Theatre Creation ) 
DREAM BOYS (September 3, 2016 - September 30, Imperial Theatre ) 
JOHNNY'S ALL STARS ISLAND (December 2016 - January 2017, Imperial Theatre)
Music program 
Edit
[The Shounen club (2016 - present, NHK BS premium )
サマステジャニーズキング [ Takahashi Kaito · Snow Man · Love-Tune] (July 26, 2016 - 29 days, August 8, 12 days, 15 days, EX Theater Roppongi )
Love-tune LIVE 2017 @Zepp DiverCity (Tokyo) (3days 18-20 Oct )
Cygames "Idol Master Series" (2016)