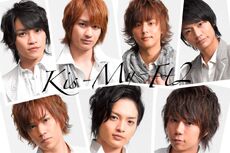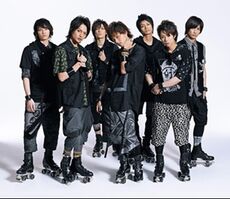 Kis-My-Ft2 a 7 member Japanese boy band under Johnny & Associates. Their name "Kis-My-Ft2" came from their members' names: Kitayama Hiromitsu Senga Kento Miyata Toshiya Yokoo Wataru Fujigaya Taisuke Tamamori Yuta Nikaido Takahashi. The group was a former Johnny's Jr. unit and debuted August 10, 2011. The first announcement of their debut date was postponed due to the Great Tohoku Earthquake.
2005-2010: Pre-Debut
Edit
In August 2005, two Johnny's Jr. units, Kis-My-Ft and A.B.C. Jr., combined to form Kis-My-Ft2. The name comes from the first letter from each of their last names; Kitayama Hiromitsu, Iida Kyohei, Senga Kento, Miyata Toshiya, Yokoo Wataru, Fujigaya Taisuke, Tamamori Yuta and Nikaido Takashi ("ni" in Kanji is the number 2). They performed as a 8 member group until end of March 2006 when Iida Kyohei left Johnny's due to his studies, leaving Kis-My-Ft2 without its "I".
The unique feature about the group is that all its members do tricks and acrobatic moves with rollerskates. The unit is modelled after one of Johnny's Entertainment older groups Hikaru GENJI and are known to perform their songs such as Sayonara no Jounetsu, Areno no Megapolis, Paradise Ginga, StarLight, Kaze no Naka no Shounen, Winning Run, and Garasu no Juudai.
As a Johnny's Jr. group, they perform at The Shounen Club, back dance at concerts of the debuted groups of their company and also held concerts together with the other juniors. And sometimes they also support some stage plays produced by their company.
In 2008 they held their first solo concerts (along with A.B.C-Z) at Yokohama Arena and Yoyogi Stadium. And it is planed that they will have their own concert tour in the end of 2009.
In 2009 they got their own stage play for the firt time, together with Uchi Hiroki and Yara Tomoyuki. They play the PLAYZONE 2009, wich until then was allways performed by Shounentai. They also held their first solo concert as a group, Kis-My-Ftに 逢えるdeShow.
In early 2010 they once again held concerts, this time with the title Kis-My-Ftに010 逢えるdeShow. This year also marked their CM debut. They got to do CM for dwango.jp, where they also release 2 digital singles: Fire Beat and Inori. On September they got to do a musical togehter with A.B.C-Z, Shounentachi ~Koushi Naki Rougoku~. In the end of the year they once again held concerts, which lasted until early the next year.
2011: Brown Envelopes
Edit
On February 12th, 2011, during their concert, Kis-My-Ftに 逢えるdeShow vol.3, they got a brown envelope to open during the MC. It announced that they will have their debut in May under Avex. But due to the Touhoku earthquake and tsunami that hit Japan, the CD release got postponed until summer.
During their concert on July 29 in Yokohama they got another brown envelope announcing that they would held their first concert in Tokyo Dome on August 28. With their official debut on August 10, it became the shortest time any music artist has ever had from their debut to a Tokyo Dome concert. Previously this record was held by Hey! Say! JUMP and Tackey & Tsubasa with Tokyo Dome concerts 38 days after their official debut.
During the Tokyo Dome concert they once again recieved a brown envelope announcing that in 2012 the group will tour around 47 prefectures of Japan and 5 Asian counties: South Korea, Taiwan, Hong Kong, Thailand and Singapore.
On November 1, 2011, it was announced that they will be releasing their 2nd single on December 14, 2011 title "We never give up!"
Former Member
Edit
Discography
Edit
Video Releases
Edit
Other Video Releases
Edit
Compilations / Other
Edit
Original Songs
Edit
Sennen no Love Song (千年のLove Song) (Originally belonged to K.K.Kity)
Endless Road
TRY AGAIN
Inori (祈り)
Ready?
Kis-My-Me-Mine
GoodBye Thank You
FIRE BEAT
Brand New Season
Kaizoku (海賊)
Smile
Daybreaker (with A.B.C.-Z)
Kis-My-Calling!
Johnny & Associates
Groups
A.B.C.-Z, Arashi, GOLF & MIKE, Hey! Say! JUMP, Kanjani8, KAT-TUN, KinKi Kids, Kis-My-Ft2, NEWS, NYC, Sexy Zone, Shounentai, SMAP, Tackey & Tsubasa, TOKIO, V6
Special Groups
20th Century, Coming Century, J-FRIENDS, Kitty GYM, MATCHY with QUESTION?, Nakayama Yuma w/B.I.Shadow, NYC boys, Shuuji to Akira, Tegomass, The SHIGOTONIN, Toraji Haiji, TRIO THE SHAKiiiN
Solo Artist
Akanishi Jin, Domoto Koichi, Domoto Tsuyoshi, Ikuta Toma, Kondo Masahiko, Takizawa Hideaki, Yamashita Tomohisa
Kanto Jr.
Butoukan, Jr.BOYS, MADE, Mis Snow Man, M.A.D., MA-Mix, noon boyz, Question?, They Budou
Kansai Jr.
7 WEST, B.A.D., Gang-Star, Little Gangs, Shadow WEST, Veteran
Past Debuted Groups
Four Leaves, Hikaru GENJI, LITTLE GANG, Johnny's, Johnny's Junior Special, Ninja, Otokogumi, Shibugakitai, THE GOOD-BYE
Past Johnny's Jr. Group
A.B.C., A.B.C. Jr., B.I.G. WEST, B.I.Shadow, BOYS, FiVe, Four Tops, Heike-ha, Hey! Say! 7, I.N.G. Shinkoukei, J.J. Express, Kis-My-Ft, K.K.Kity, OSSAN, Snow Prince Gasshoudan, Tanokin Trio, Tap Kids, TOP Kids, V.West, Ya-Ya-yah