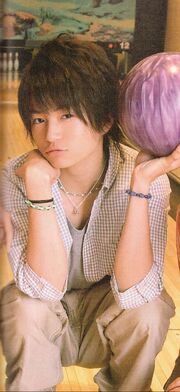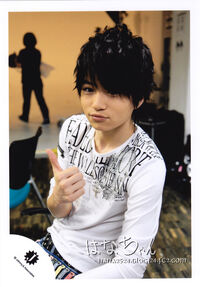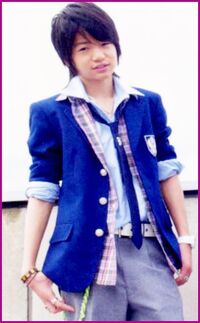 Kikuchi Fuma (菊池風磨) is a member of Johnny's Entertainment group Nakayama Yuma w/ B.I.Shadow. He and Nakajima Kento are one of the original B.I.Shadow members. He is currently going to debut with B.I.Shadow member Nakajima Kento and other Johnny's Jr. members in Sexy Zone.
Name: Kikuchi Fuma (菊池風磨)
Nickname: Fuma
Birthday: March 7, 1995 (22)
Birthplace: Tokyo, Japan
Blood Type: A
Height: 176cm (5'9 ft)
Weight: 56kg
Admired Sempai: Sakurai Sho, Yabu Kota .
Skills: Swimming, Baseball, Karate and Singing
Hobby: Rap, Guitar
Favorite Food: Meat, Hamburger, Eggs
Dislike: Cherry tomatoes
Favorite Color: White
Favorite Anime: "Doraemon"
Favorite Song: "Kitto Daijoubu" (Arashi), "36°C" (TOKIO), "BLUE TUESDAY" (KAT-TUN).
Favorite Subject: English, Physical Education
Johnny & Associates Group's:
Information
Edit
He joined B.I.Shadow with Nakajima Kento, and Takahata Misaki while filming for Scrap Teacher. He acted with Nakajima Kento, and Takahata Misaki in Scrap Teacher. In 2009, it was announced that Kikuchi and the rest of the B.I.Shadow members would debut with Nakayama Yuma as Nakayama Yuma w/ B.I.Shadow
Singles Participated In
Edit
Nakayama Yuma w/B.I.Shadow
Edit
Sexy Zone
Sexy Zone (debut single)
Lady ダイヤモンド
Sexy Summer に雪が降る
[2008] Scrap Teacher (as Kusumoto Fuma)
[2012] Mirai Nikki -ANOTHER:WORLD- (as Kosaka Ouji)
Ad blocker interference detected!
Wikia is a free-to-use site that makes money from advertising. We have a modified experience for viewers using ad blockers

Wikia is not accessible if you've made further modifications. Remove the custom ad blocker rule(s) and the page will load as expected.