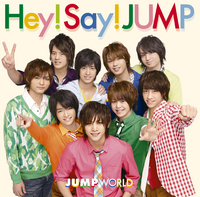 JUMP WORLD is the upcoming second studio album from Hey! Say! JUMP. It is set to release on June 6, 2012.
Album information
Edit
After almost 2 years since Hey! Say! JUMP's first album JUMP NO. 1 was released, it was announced that the group would be releasing their second album on June 6, 2012. The album would contain their singles from Arigatō (Sekai no Doko ni Ite mo) to SUPER DELICATE. The album would be released on two different version, a Regular Edition and Limited Edition. This also marks their first album without Morimoto Ryutaro.
Tracklist
Edit
Regular Edition Tracklist
Edit
Limited Edition CD Tracklist
Edit
Message from members of Hey! Say! JUMP
Limited Edition DVD Tracklist
Edit
Recording & Jacket Shooting (レコーディングとジャケット撮影のスペシャル映像を収録)
Oricon Chart Positions
Edit
Mon
Tue
Wed
Thu
Fri
Sat
Sun
Week Rank
Sales
-
#1
60,379
#1
28,245
#1
11,350
#1
7,944
#1
6,738
#3
6,000
#1
126,578
#1
2,589
x
x
x
x
x
x
x
x,xxx
x
x
x
x
x
x
x
x
x,xxx
x
x
x
x
x
x
x
x
x,xxx
Total Reported Sales: 153,473*
External Links
Edit
Hey! Say! JUMP
Members
Yabu Kota, Takaki Yuya, Inoo Kei, Yaotome Hikaru, Arioka Daiki, Okamoto Keito, Yamada Ryosuke, Nakajima Yuto, Chinen Yuuri
Morimoto Ryutaro
Albums
JUMP NO.1, JUMP WORLD
Singles
Ultra Music Power, Dreams Come True, Your Seed / Bouken Rider, Mayonaka no Shadow Boy, Hitomi no Screen, "Arigato" ~Sekai no Doko ni Itemo~, OVER, Magic Power, Super Delicate, Come On A My House
DVDs
Hey! Say! JUMP Debut & First Concert Ikinari! in Tokyo Dome, Hey! Say! Jump-ing Tour '08-'09, Hey! Say! 2010 TEN JUMP, SUMMARY 2010 , SUMMARY 2011 in DOME, JUMP WORLD 2012
Related Topics
NYC, Hey! Say! 7, Hey! Say! 7, Hey! Say! BEST
Ad blocker interference detected!
Wikia is a free-to-use site that makes money from advertising. We have a modified experience for viewers using ad blockers

Wikia is not accessible if you've made further modifications. Remove the custom ad blocker rule(s) and the page will load as expected.