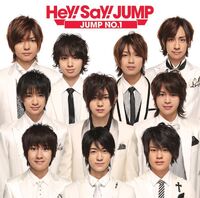 Jump No.1 is the first studio album by Japanese boy band Hey! Say! JUMP, released in July 7, 2010 under their label J Storm. The album reached #1 on the weekly Oricon charts and charted for ten weeks, selling 188,269 copies.
Jump No.1 was released in both limited edition version and a regular edition. The limited edition includes a 40-page premium booklet while the Regular Edition includes 28-page special booklet. The album contains 17 songs including their previous 5 singles.
Yaotome Hikaru both composed and wrote the song titled "Ai☆Sukuriimu" (アイ☆スクリーム). Yabu Kota, Chinen Yuuri, Yamada Ryosuke, Nakajima Yuto, and Takaki Yuya participated in writing lyrics for the new songs. Arioka Daiki arranged one of the songs, "Time". Inoo Kei, Morimoto Ryutaro, and Okamoto Keito participated in the studio session for the new songs as musical performers. The lyrics for the song titled "Thank you: Bokutachi kara kimi e" (Thank You ~僕たちから君へ~, lit. "Thank you: From us to you") were written by Hey! Say! JUMP.
Tracklist
Edit
Regular Traclist
Edit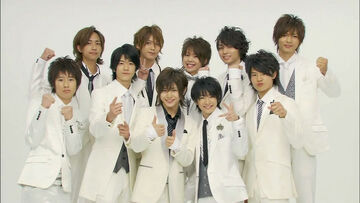 Oricon Chart Positions
Edit
Mon
Tue
Wed
Thu
Fri
Sat
Sun
Week Rank
Sales
-
#1
#1
#1
#1
#2
#2
#1
156,118
#3
#10
#11
#11
#12
#6
#8
#9
12,689
#8
#26
#25
#23
#21
#23
#21
#23
6,100
#20
-
-
-
-
-
-
#43
3,084
-
-
-
-
-
-
-
#42
3,257
#35
-
-
-
-
-
-
#48
2,150
-
-
-
-
-
-
-
#154
885
-
-
-
-
-
-
-
#173
671
-
-
-
-
-
-
-
out for one week
-
-
-
-
-
-
-
#258
449
-
-
-
-
-
-
-
out for 13 weeks
-
-
-
-
-
-
-
#268
648
Total Reported Sales: 188,269
Total Sales in 2010: 187,621 (#33 album of the year)
Total Sales in 2011: 648
Hey! Say! JUMP
Members
Yabu Kota, Takaki Yuya, Inoo Kei, Yaotome Hikaru, Arioka Daiki, Okamoto Keito, Yamada Ryosuke, Nakajima Yuto, Chinen Yuuri
Morimoto Ryutaro
Albums
JUMP NO.1, JUMP WORLD
Singles
Ultra Music Power, Dreams Come True, Your Seed / Bouken Rider, Mayonaka no Shadow Boy, Hitomi no Screen, "Arigato" ~Sekai no Doko ni Itemo~, OVER, Magic Power, Super Delicate, Come On A My House
DVDs
Hey! Say! JUMP Debut & First Concert Ikinari! in Tokyo Dome, Hey! Say! Jump-ing Tour '08-'09, Hey! Say! 2010 TEN JUMP, SUMMARY 2010 , SUMMARY 2011 in DOME, JUMP WORLD 2012
Related Topics
NYC, Hey! Say! 7, Hey! Say! 7, Hey! Say! BEST